I love accessories. Its my
fashion
obsession to wear some kind of accessory with my outfits. I have talked about
jewellery
that I like, and today it is all about scarves. As it is approaching winter here in Australia, I am really loving wearing scarves even more. They really add a pop of colour or style to any outfit. Here are a few different style scarves that I like.
They are from Sussan and Witchery stores.

Above: The first one is a great winter soft black scarf that can be worn with anything. The second one has a gorgeous leopard looking print great with browns, creams and white clothing. The third one is a beautiful two tone- blue and white - scarf that would look good with a jacket. The last one is a lovely textured orange scarf that gives a nice pop of colour to an outfit.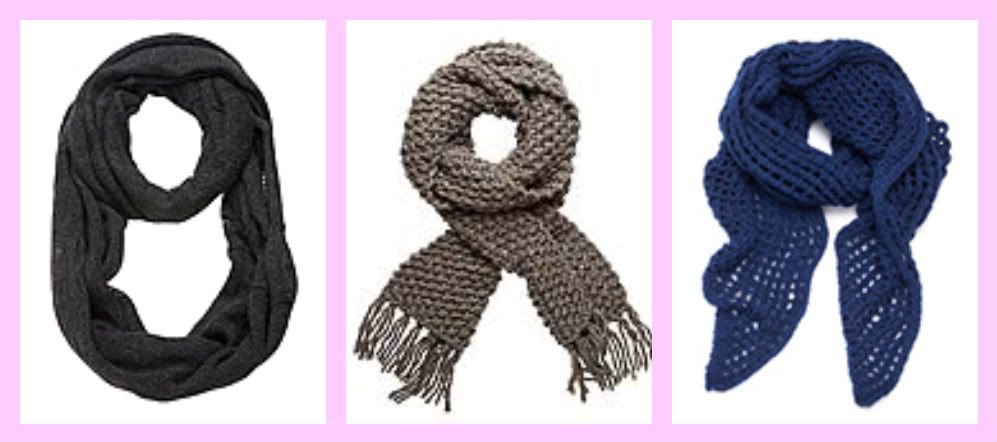 Above: The first one is a open weave endless scarf which I love because it feels really nice around the neck and this can be worn as a more casual scarf. The second one is a hand knit chuncky scarf, great for winter with a jacket. The third one is a open weave scarf great for spring or autumn as it is comfortable and great plain tops or cardigans.
Scarves are so versatile, comfortable and can give you a sense of confidence. A scarf is a fashion accessory that adds that soft touch to any outfit. They come in various fabrics, designs and shapes such as triangle, rectangle and square, and how you wear it depends on its size and shape.
Do you wear scarves?